KEY COMPETENCIES
FOR FOSTERING BETTER
INTERNATIONAL UNDERSTANDING
AND EMPLOYABILITY
10:00 – 11:00 Town-Hall and Old Town
The wonderful looking white townhall, almost a symbol for
architecture of rich mercantile era, covers real historical
treasures, like prison, ceramics, the mayors´ bureau,
conference hall and a lot of information concerning the city´s
development.
This building has never been a church, in
spite it is looking like one, and often you
can see couples go in for marriage.
It´s just a highly frequented
administration center for weddings!
This was introduced to us by a quite
competent guide in an audience
orientated manner.
Thanks to this institution!
Final Meeting in Kaunas
11th of April 2018
Visiting the Town-Hall and walk through the old town.
Abschlusstreffen in Kaunas
11. April 2018
Besuch des historischen Rathauses
10:00 - 11:00 Rathaus und Altstadt
Das wunderschöne weiße historische Rathaus, Symbol der
Architektur einer reichen Handelszeit, enthält wahrhaft
historische Schätze: Kerker, Keramik, Bürgermeisterbüro,
Konferenzsaal und eine Menge Informationen zur
Stadtentwicklung.
Dieses Gebäude ist niemals eine Kirche
gewesen, obwohl es so aussieht.
Gleichwohl sieht man hier häufig
Hochzeitspaare.
Es ist ein sehr beliebtes Standesamt!
Das erklärte uns ein äußerst kompetenter
Fremdenführer absolut
adressatengerecht.
Wir danken dieser Institution!

Holstentor-
Gemeinschaftsschule
mit Ganztagsangebot
SCHLÜSSELKOMPETENZEN
ZUR FÖRDERUNG
INTERNATIONALER VERSTÄNDIGUNG
UND ERWERBSTÄTIGKEIT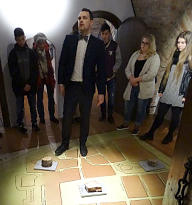 Imagine this prison
without light, without toilets
and without heating!